Did you know that the history of Rudolph the red nosed reindeer isn't even that old?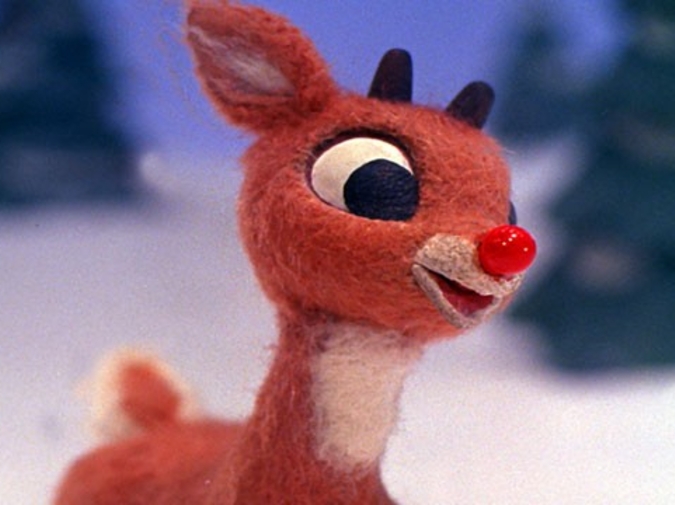 Rudolph the Red-Nosed Reindeer is a fictional male reindeer with a glowing red nose, popularly known as "Santa's 9th Reindeer." When depicted, he is the lead reindeer pulling Santa's sleigh on Christmas Eve. The luminosity of his nose is so great that it illuminates the team's path through inclement winter weather.
Rudolph first appeared in a 1939 booklet written by Robert L. May and published by Montgomery Ward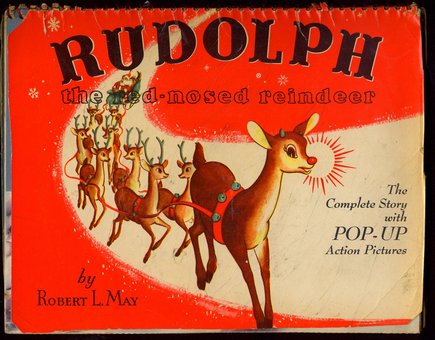 The story is owned by The Rudolph Company, L.P. and has been adapted in numerous forms including a popular song, a television special and sequels, and a feature film and sequel. Character Arts, LLC manages the licensing for the Rudolph Company, L.P. In many countries, Rudolph has become a figure of Christmas folklore.
Robert L. May created Rudolph in 1939 as an assignment for Chicago based Montgomery Ward. The retailer had been buying and giving away coloring books for Christmas every year and it was decided that creating their own book would save money. May considered naming the reindeer "Rollo" and "Reginald" before deciding upon using the name "Rudolph".[4] In its first year of publication, 2.5 million copies of Rudolph's story were distributed by Montgomery Ward.[5] The story is written as a poem in the meter of "'Twas the Night Before Christmas". Publication and reprint rights for the book Rudolph the Red-Nosed Reindeer are controlled by Pearson Plc.
Of note is the change in the cultural significance of a red nose. In popular culture, a bright red nose was then closely associated with chronic alcoholism and drunkards, and so the story idea was initially rejected. May asked his illustrator friend at Wards, Denver Gillen, to draw "cute reindeer", using zoo deer as models. The alert, bouncy character Gillen developed convinced management to support the idea.[6]
Maxton Books published the first mass-market edition of Rudolph and also published a sequel, Rudolph the Red-Nosed Reindeer Shines Again in 1954. In 1991 Applewood Books published Rudolph's Second Christmas, an unpublished sequel that Robert May wrote in 1947. In 2003, Penguin Books issued a reprint version of the original Rudolph the Red-Nosed Reindeer with new artwork by Lisa Papp. Penguin also reprinted May's sequels Rudolph Shines Again and Rudolph's Second Christmas (now retitled Rudolph to the Rescue)
Johnny Marks, adapted the story of Rudolph into a song. Gene Autry's recording of the song hit No. 1 on the Billboard pop singles chart the week of Christmas 1949. Autry's recording sold 2.5 million copies the first year, eventually selling a total of 25 million, and it remained the second best-selling record of all time until the 1980s.
Rudolph's first screen appearance came in 1944, in the form of a cartoon short produced by Max Fleischer for the Jam Handy Corporation, that was more faithful to May's original story than Marks' song (which had not then yet been written). It was reissued in 1951 with the song added.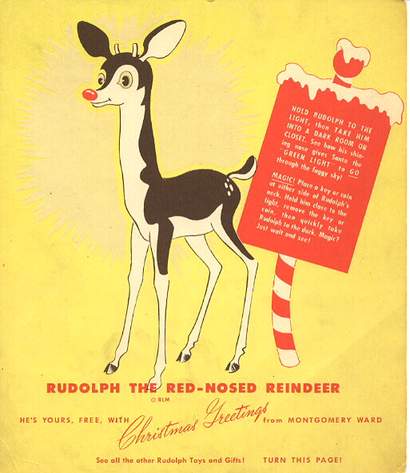 Two BBC animations carry on the legend by introducing Rudolph's son, Robbie the Reindeer. However, Rudolph is never directly mentioned by name (references are replaced by the character Blitzen interrupting with the phrase "Don't say that name!" or something similar, presumably for copyright reasons.)
Rudolph is also given a brother, Rusty Reindeer, in the 2006 American special, Holidaze: The Christmas That Almost Didn't Happen. Unlike in the "Robbie the Reindeer" cartoons, Rudolph's name is mentioned in the film.
Rudolph has a cousin, Leroy, in Joe Diffie's 1995 song, "Leroy the Redneck Reindeer", which tells the story of Leroy joining the sleigh team because Rudolph was too ill.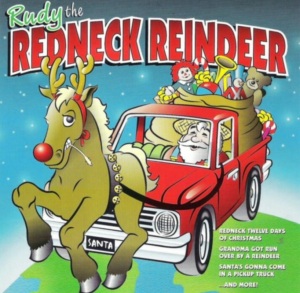 In the animated specials produced by both Rankin-Bass and GoodTimes Entertainment, Rudolph has been given different sets of parents. In Rankin-Bass's holiday special, he is Donner's son, and his mother is a tan doe who is called Mrs. Donner. In GoodTimes's retelling, Rudolph's father is Blitzen and his mother is named Mitzi, 3 of Santa's reindeer (Dasher, Comet and Cupid) were his uncles and he has a cousin Arrow (who is Cupid's son) who also serves as his rival.
Robert L. May's original book does not name Rudolph's parents.